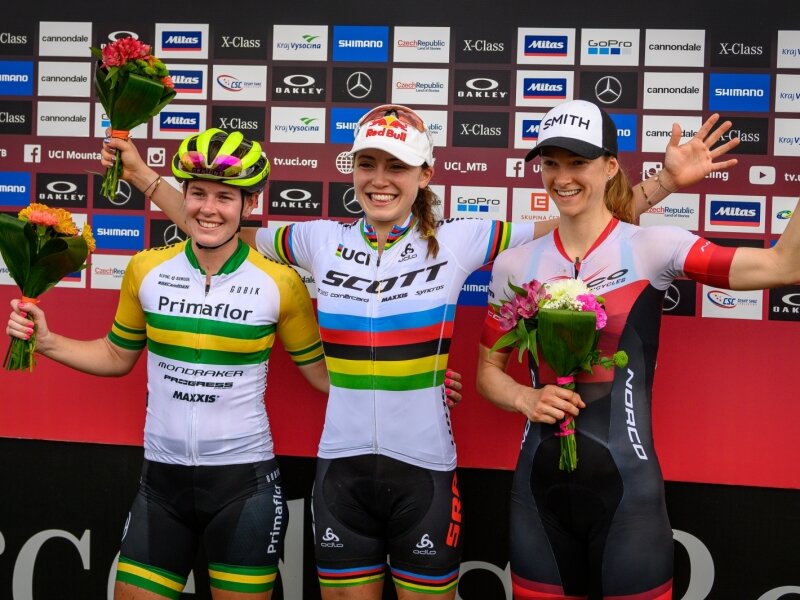 Kate Courtney: It's hard to make it to the top but it can be harder to stay there
Out of California, USA Kate Courtney is the 2018 World Champion and 2019 World Cup overall winner. She is well known for her up-beat personality adding a little sparkle to everything she does but she is also a girl who is focused on her job. Kate races with grit and determination and is crowd favorite everywhere she goes.
Bec McConnell: You were consistently improving during your Junior and Under 23 years and even your first year as an Elite racer, steadily improving during the season already reaching the top 10 by mid season. Then, boom! you rode your way to the rainbow jersey at the World Championships as a first year Elite. You were undeniably an underdog, did that make it more special to pull it off without the pressure and expectation?
Kate Courtney: My first season in Elite was certainly a big transition! I was confident coming off of a great last U23 season, but quickly came to recognize that I had a lot to learn before I would be competitive at the front of the Elite Women's field. I was finishing consistently in the top 10 during the season, but wasn't able to crack that first podium in the World Cups. In MSA I got close - riding in 3rd until I had a flat, crashed and lost the sprint finish to end up 6th, but I was never able to stay in that front group fighting for podium positions. By the time World Championships came around, I was really hoping to finally get that top 5 but, as you said, didn't have a lot of pressure or expectation of winning. In some ways, being so focused on the process and feeling like I had nothing to lose as a first year Elite was a big advantage. I could just focus on giving my best race performance and taking it moment by moment. In racing, I think surprising yourself and performing beyond your expectations is one of the best feelings. For me, winning in Lenzerheide was exactly that.
Describe the feeling of wearing that jersey and being the World Champion.
For me, riding in the rainbow jersey was truly an honor and a joy. Personally, it was a special reminder to myself to have confidence and go big. That season if I was doubting myself during a hard day of training or standing on the start line, I could look down and see a physical reminder that winning wasn't impossible. More broadly, wearing the rainbow jersey was a huge honor and connected me with the cycling community. I was able to share it with my family, friends, community and even random strangers who would ask to take selfies in coffee shops or out on the trails. In some ways, I think the fact that my win was a surprise took a bit of the pressure off and allowed me to just really enjoy the moment and celebrate it with the people who support me most.
After the 2018 season you went home and obviously took a lot of confidence and motivation with you because you came back in 2019 proving that your rainbow jersey was no fluke. You won the first two World Cup's including the short track at round 1, and then took another double win with the Short Track and XC at round 4 and of course Won the World Cup overall. Did you change anything in the off season of 2018-19?
To be honest, not a lot! Of course, every year we make adjustments and try to improve steadily, but the core parts of my training remained pretty similar. I feel like 2019 looked like an insane break out year for me, but it was really just the product of another season of development and incremental improvement. From an analytical standpoint, I made the same kind of improvements between 2018 and 2019 as I did from 2017 to 2018. I do think one big thing changed in 2019 and that was my belief in myself. Turns out, the mental side of racing can make a big difference as well!
You've made it to the top, now what is the plan to stay there?
It's hard to make it to the top but it seems it can be even harder to stay there. For me, the goal remains to make incremental progress every year and work towards being the best athlete I can be. You can't control your competition - but you can control your own efforts and ensuring you are doing everything in your power to improve.
Mountain Bike is a pretty fortunate sport when it comes to equality. Women get great coverage thanks to RedBull TV, our events are always held together with the Men and more often than not, the downhill. But when you dig a bit deeper the salaries for Women are significantly lower and drop off quickly. There are limited opportunities to get a team for many women. What are your thoughts and what do you think can be done to improve opportunities and depth to earn a living for Women in our sport?
I couldn't agree more with the way you have summarized the current status of the sport. I have a huge appreciation for the opportunities we do get as women in mountain biking. We compete on the same courses, on the same weekends and with the same prize money as the men. I have also seen changes in the past few years in the way women are compensated and I am lucky to be on a team that really prioritizes equality in every aspect. But I believe there is still a lot of work to be done in terms of expanding opportunities for women in the sport. We already have a very high level of competition in the women's field, but there are many competitors who don't have the financial support to focus full time on the sport or make it to all of the races. For me, I think it comes down to the economic model of the sport and finding more ways to make running a team sustainable. Involving new non-endemic sponsors and making the World Cup calendar more global and less Euro-focused may be a few ways to increase opportunity.
Like many of the female racers you spend a lot of time riding with your Dad. Is he the reason that you got into the sport and do you feel the shared passion of mountain biking creates a special bond?
I fell in love with mountain biking on the back of a tandem mountain bike with my dad. At the time, I had never even heard of competitive mountain biking and to be honest, my dad didn't have much exposure to racing beyond watching the Tour De France in the summer. That meant that when I started riding, there was no pressure to perform. It was just fun. For me, riding with my dad will always be that - fun. We have a shared love for being out on the mountain on our bikes and no matter where the competitive sport takes me, I am always grateful to have that to come back to and share with him.
You come across as a very confident person on and off the bike. Is this part of your American culture or are you really that confident? Do you have any hidden insecurities?
We all have insecurities. I imagine I have as much self doubt and insecurity as anyone else in the field. The one thing that really helps me find confidence on race weekends is by finding the joy in riding and racing my bike. I really do love what I do and I think when I can connect with that feeling, I end up feeling more relaxed and confident on and off the bike.
You joined Scott SRAM in 2019 after being a part of the Specialized Racing Team. Are there any major differences between the teams and was it easy to transition? It must have helped to bring along your mechanic Brad Copeland?
The Scott SRAM team has a unique mix of a highly professional and family oriented atmosphere. We really enjoy working together to pursue performance at the top level. I joined the team in 2019 in part because of the team atmosphere and the huge opportunity learn from Nino and Frischi. Between the two of them, they have been at the top of the sport since the very beginning and have so much experience training and competing at this level. For me, the transition to the team has been a great one, especially having my mechanic Brad by my side for all the US and European races. Having a great team of people behind you is critical to performance but it is also a huge part of what makes competing fun and sustainable in the long run. The wins are more special and the losses less devastating when shared with a group that truly believes in you and wants to work towards the best performances together.
It looks like you work really well with your team manager Thomas Frishknecht, we've seen you training together on the course and talking tactics. How valuable is his support? Do you ever miss having another female teammate?
Thomas Frischknecht is obviously one of the biggest legends in our sport and someone who knows mountain bike racing inside and out. I have learned more in the past year than probably in my entire career before then. The small opportunities for improvement that Frischi is able to recognize and teach me add up. I have had some great female teammates in the past which makes pre rides and training really fun. Of course I sometimes miss having a female teammate! But in other ways, I like having the chance to focus only on my performance. Frischi and I are able to pre ride, talk tactics, select lines and prioritize my training in a way that really helps keep me focused on racing to the best of my ability and less so on my competition. His mentorship has really changed the way I ride and race my bike. Luckily, he's also one of my favorite people to ride with!
What is it like to be teammates with Nino Schurter?
Nino is obviously one of the greatest athletes ever to compete in mountain biking. He has remained at the top for so long and managed to evolve with the sport over the past decade. I am always impressed by how much he is still evolving as an athlete and open to new finding new ways to improve. There is certainly a lot to be learned from watching him!
Gym has become quite trendy since Nino started sharing his training a few years ago. Do you think gym work is effective and are the gains measurable?
I grew up ski racing, where strength training is a huge part of your preparation for the season. When I switched to mountain biking in high school, I continued my strength training program. It made me feel stronger and more in control on the bike and I saw real changes in my performance based on what I was doing in the gym. It has certainly become trendy in recent years, but it has been a consistent and important part of my training program from the very beginning!
Finally, how do you keep calm and grounded in a world where being an athlete is not just as simple as being an athlete anymore. Keeping up social media can be a huge commitment on top of training and other media/sponsor commitments. When do you take time out for yourself?
There is definitely a lot to being an athlete that goes beyond training and competing. I think I have gotten my first big taste of this during the 2020 Olympic year! Although the games are now moved to 2021, this year has involved more media and sponsorship commitment than ever before. It is certainly something I am learning to manage and make fun. For me, having an authentic presence on social media and being partnered with brands I really believe in and love working with makes a big difference in this area. When these commitments are fun and authentic, they become less of a chore and more of a component of your lifestyle. I definitely still get plenty of time for myself - recently in the form of baking, knitting, yoga and spending time with my QuaranTEAM.